Winery Tour of Indomita and Veramontes, Full Day Wine Tour Veramontes & Indomita vineyards, Casablanca Valley Private Wine Tour: Indomita and Veramontes.
Casablanca valley is located approximately 1 hour west of Santiago. It is Chile's first cool-climate wine producing region, with an internationally established reputation since the early 1990s for its arresting, vibrant, mouth-watering white wines.
We will visit two of the most important vineyards of the Casablanca Valley.
Visit the vineyards indomita and veramontes
Veramonte Winery
Veramonte was founded in 1990 as a vineyard-based winery whose mission is to produce high quality wines that accurately, authentically express varietal characteristics via Chile's unique terroirs.
Veramonte's Casablanca vineyard produces significantly lower yields than other grape growing regions in Chile, resulting in grapes with more intensity and concentration
Itinerary
Welcome at visitor center
Tour around vineyards
Winery and barrel room
Tasting of three wines: Ritual Pinot Noir, Ritual Sauvignon Blanc and Primus The Blend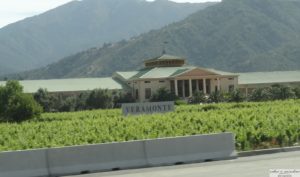 Indomita Winery
We will tour and taste their wines
Vina Indomita is a young and dynamic wine exporting company
The winery is situated in Casablanca, 80 km from Santiago.
Vina Indomita is a young and dynamic winery set up in the early 2000's to be at the forefront of Chilean winemaking and vine exploration.
On top of a hill and surrounded by vineyards, Indómita is the only winery located in Casablanca able to deliver a complete view of the insterned modern and classic at the same time valley atmosphere.
LOW PRICE GUARANTEE
Price per Person                       Total
$300.00                x 1 Adult: $300.00
$165.00                x 2 Adult: $330.00
$150.00                x 3 Adult: $450.00
$150.00                x 4 Adult: $600.00
$150.00                x 5 Adult: $750.00
$150.00                x 6 Adult: $900.00
$150.00                x 7 Adult: $1050.00
From USD
About the Tour
Private Transport
Admission fees
Wine tasting
Family friendly
Bilingual guide Spanish / English.
Exclusions
Lunch
Optional: Lunch at Viña Indómita's restaurant.
Duration:
Departure from Hotel in the morning
From 09:30 hrs to 17: 00 hrs.

Winery Tour of Indomita and Veramontes